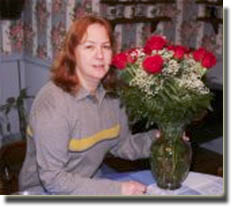 On 12/16/11, an angel was created. An incredibly awesome woman, Sheila Weisfeld during her life... made a difference.

Sheila... was a force of nature.

Plain and simple.

Whatever Sheila focused on, be it VPI, Girl Scouts, the Red Hat Society, the Diabetes Society.....

She always engaged 110% of her energies, passion and drive.

You always knew where you stood with Sheila; she would tell you things the way they were. But more so than that.she would proactively go the extra mile to ensure that whatever concerns you had, they were not only met but satisfied above and beyond.

Friendship-wise, Sheila was simply a person you knew you could count on to be there for you, no matter what. I remember when I was considering research residential facilities for my folks; Sheila offered to go with me to Tinton Falls to scope out what was there and even did some investigations on the Internet for me!

That's just the kind of person Sheila was.

Rest in peace, Sheila.... the afterlife is now a far more exciting place now that you're there, making a difference to one and all.